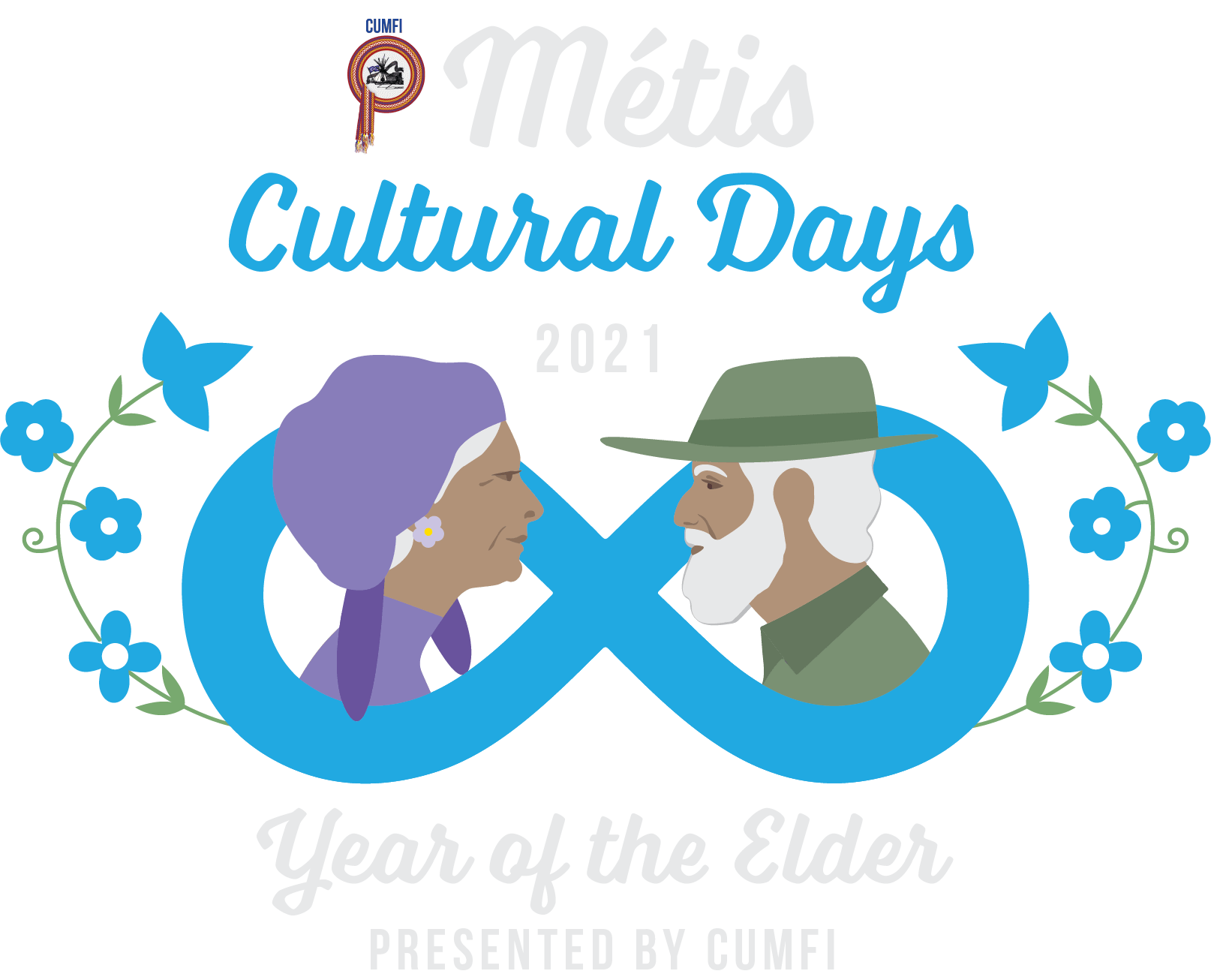 Please welcome our Entertainment

Time and day for each performer will be announced closer to the event date.

Welcome to our host's for CUMFI'S Métis Cultural Days

Performers will be added as they are confirmed. Please bookmark this page and check back frequently!

Host - Cal Arcand

Cal Arcand is originally from the Muskeg Lake Cree Nation and makes his home in Big River. He is a master of ceremonies for many different events including sporting, musical and cultural gatherings.
Host - Maureen Belanger

Maureen Belanger: Maureen Belanger is a renowned Métis comedian, storyteller and improviser from the northwest community of Ile-a-la Crosse, Sask. Maureen's fun, humble humour has made her a popular host for many arts events within the Canadian performing arts scene. Through her signature character Old Ernestine, a spirited Métis elder who loves attention, Maureen has enlightened people on the Métis and their struggles. Her fluent use of Michif (the language of the Métis people) maintains the cultural integrity of her performances and ensures that the language will never be lost. Her acclaimed acting achievements are numerous and have been appreciated on stages all over the country.
Welcome to CUMFI'S Métis Cultural Days Stage

Performers will be added as they are confirmed. Please bookmark this page and check back frequently!

J.J. Lavallee

J.J. Lavallee is a Multi-award winning, multi-instrumentalist artist.

For the last 10 years in BC living and working on traditional territories all over the Provence. He continues to write and perform his music wherever and whenever he can.

He is currently in the studio working on not only his 4th album. Being an energetic metis fiddle player, and a soulful, straight from the heart songwriter, he cannot wait to share his latest works with new and old audiences in the province, country, and beyond.
JJ Guy

A 2021 inductee into the North American Fiddlers Hall of Fame, JJ Guy's performances are steeped in tradition while taking fiddle music to a new and exciting level! He tours from coast to coast to coast and can often be found teaching fiddle workshops, hosting his successful "Jamming with JJ" streaming series or playing concerts under the name "Twin Fiddles" with Gordon Stobbe. Be sure to check out this performer if you get a chance!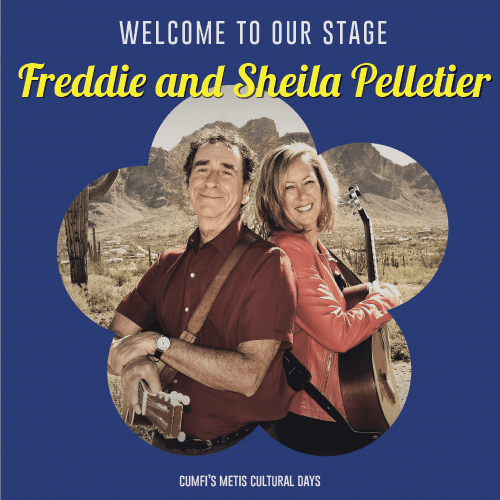 Freddie and Sheila Pelletier

Fantastic guitar picking, singing and a few laughs sum up this acoustic husband/wife duo. Freddie is a veteran guitarist with over 50 years in the music biz, most notably playing lead guitar for Ian Tyson for several years. Freddie and Sheila operated a successful music camp for over a decade and spent 20 years touring the sunny southern USA performing in the winter months. When they're home they perform in a concert style setting for any occasion you can imagine!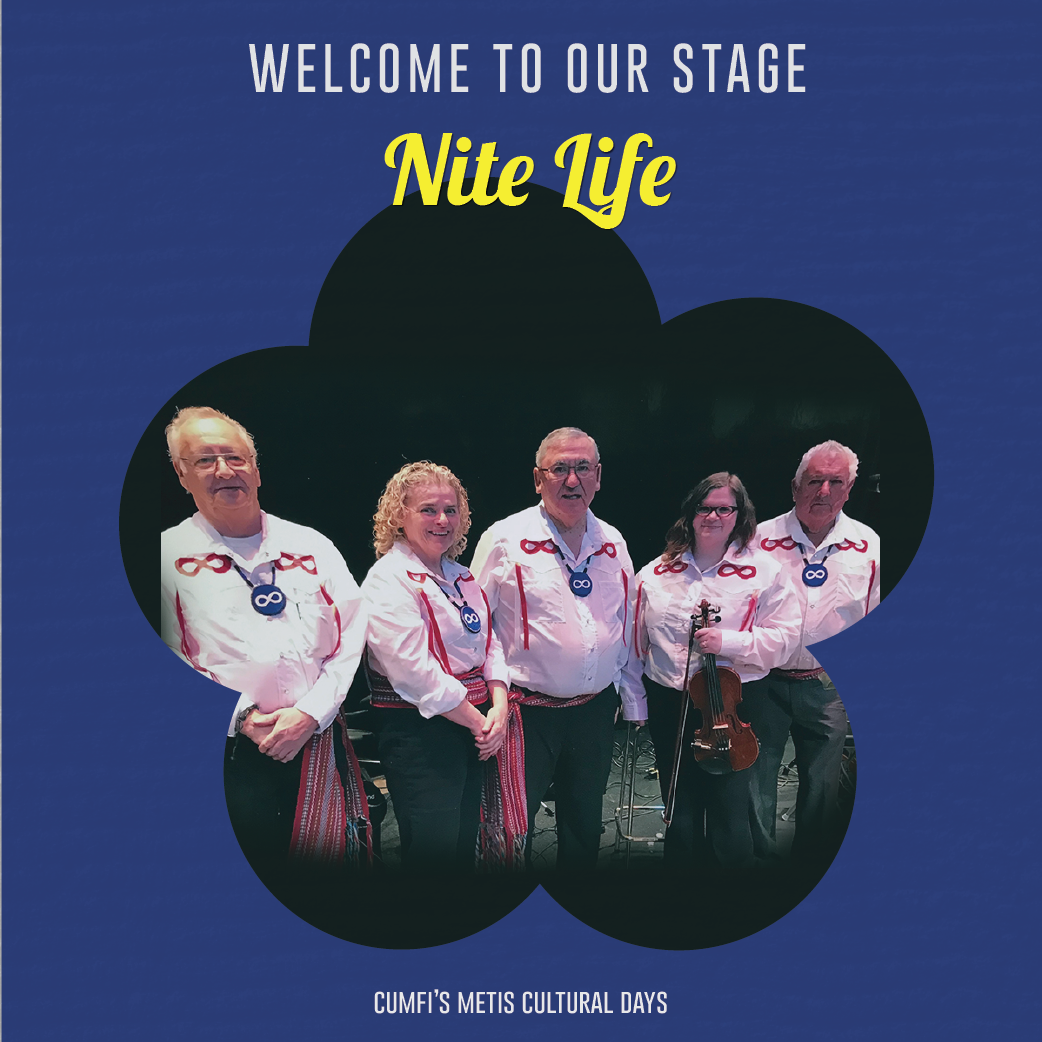 Nite Life

An old-style country and Metis Band, performing in Westman area for a number of years.
Krystle Pederson

Krystle Pederson is a Cree/Metis singer songwriter, actor and musician Krystle is a recipient of CBC Future 40 Award, nominated for the Saskatchewan Arts Awards for Emerging artist. Krystle's list of acting credits includes MTC -Theatre's The (Post)Mistress, National Arts Centre's "Gabriel Dumont Wild West Show", Persephone Theatre: Reasonable Doubt". Currently Krystle is the lead vocalist for "Lynx Lamour Goes to Nashville" a one woman Cree musical written and composed by Tomson Highway.
King Trapper: Felix Merasty

Metis Voyageur events are organized by myself and my professional assistant is Franklin Carriere! Events like animal calling, log sawing, tea boiling, rope winding, and more!
Queen Trapper: Clarissa Burns
Hello, my name is Clarissa Burns I live in Prince Albert. My roots are both Cree and Metis, from James Smith & Cumberland House, SK of course blended with my MB family. I am from the Treaty 5 territory in Opaskwayak Cree Nation which is adjacent to The Pas, MB. I have 2 children Sienna & Keestin. I have been competing since I was 13 years old in various winter festivals & summer events in both northern MB & SK. The best way to learn the voyager games is to get out there & try-you won't regret it!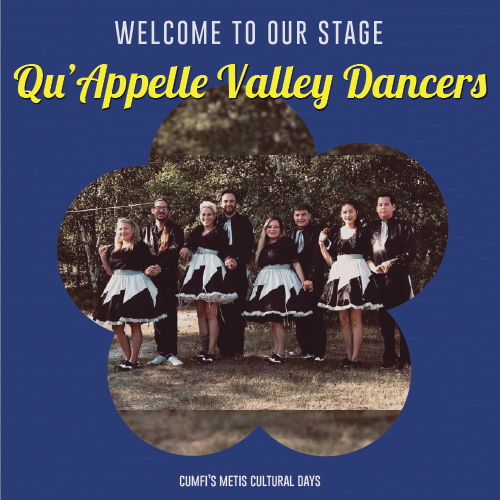 Qu'Appelle Valley Square Dancers
Qu'Appelle Valley Square Dancers is a highly energetic and captivating team. They have danced across Saskatchewan and Alberta, wowing crowds with their mixture of traditional and contemporary routines. This group is more than just a team, they are a family that ranges with dancers from different First Nations and Metis communities. Their dancers range from various ages, young and old, from beginners to professionals. They are a team that gives everyone an opportunity to dance.
The love for dancing as we surrender to the music, we dance to keep our tradition alive.

Enhancing the beauty of dance, engage to inspire, and dance to express.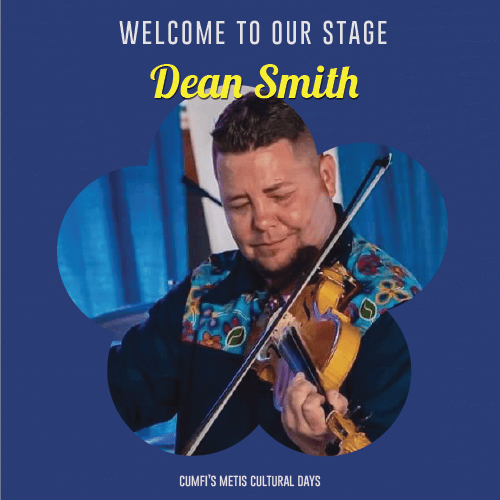 Dean Smith

Dean Smith Métis old tyme fiddler from Prince Albert, Saskatchewan. Dean has had the opportunity to play for many festivals and dances throughout Saskatchewan and Alberta. Recorded his first fiddle album in 2014 called old Tyme fiddle favourites.
Raven Reid

Raven Reid is a singer/songwriter, musician, public speaker, artist, poet, and budding author. She currently resides in Saskatoon but is originally from NWT. Raven has toured in Jasper, Alberta, and many of the music festivals here in Saskatchewan. She is a recording artist and has recently released her EP online as well as music videos. She looks forward to releasing a new album in February 2022.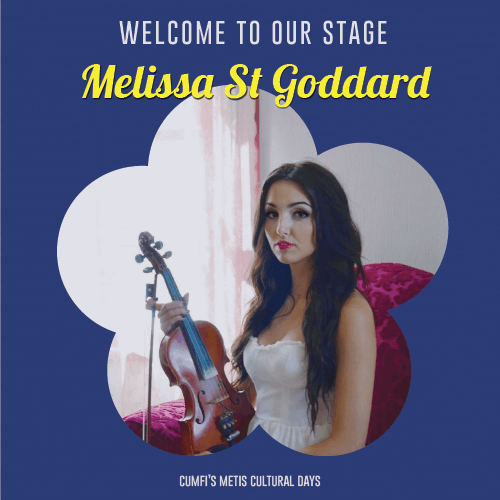 Melissa St Goddard

From Portage La Prairie Manitoba, Melissa has been surrounded by music her entire life. She grew up in a musical family with several accomplished fiddlers. At the age of 13 she received her first fiddle and fell in love with the instrument. Now at the age of 31 years old, Melissa not only performs but also makes a career out of teaching the fiddle to the next generation. She has had the honor of playing at several events across Canada.
Jordan Daniels

Jordan Daniels, born and raised in Saskatoon is also a proud member of Mistawasis Nehiyawak. Jordan has been playing fiddle for 9 years under the guidance of John Arcand. Jordan started playing fiddle after hearing stories of his Chapans, or great-grandfathers playing fiddle for family and friends.

This inspired Jordan to carry on his families tradition of Fiddle. Jordan loves to play the Old time Métis Tunes and loves to share his music with anyone who wants to listen.
The Creeland Dancers
The Creeland Dancers are considered Western Canada's Finest Square Dancers and are available for all occasions. They are an Indigenous dance company that specializes in a unique fusion of Metis jigging, traditional Metis dances, and square dancing. The group was formed in 1984 by Cree elders Therese Seesequasis and her late husband Ken as a way to promote the culture and traditions of the Metis. The Creeland Dancers' high-energy performances are not only entertaining but educational as well.
Rebecca Strong

Rebecca Strong is 18, from Prince Albert, Saskatchewan. She is a proud Indigenous woman who wants to show the world that you can do anything no matter where you're from. She is well known for her cover of "Sober" on Facebook. She dreams to be a superstar.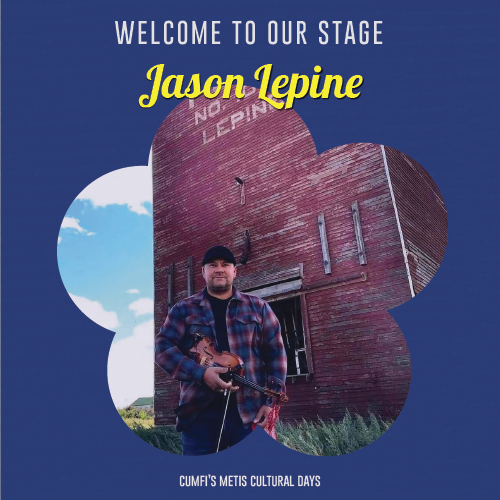 Jason Lepine

Jason is a Metis Fiddle Champion and Recording Artist who was born and raised in Portage la Prairie, but now lives in Winnipeg, Mb. Jason started playing fiddle at age 7. He continues to share his Metis traditional fiddling passed on by his Dad, Garry Lepine, who is a Metis and Manitoba Fiddle Hall of Famer. Jason is a self-taught fiddle player who plays by ear. Jason plays fiddle for Red River Jigging and square dance groups which is his forte. Jason has won many fiddle contests over his fiddling career. He also judges, teaches fiddle lessons and plays for all types of functions. Jason has played all over Canada, including some performances in the USA.
Joe Jackson

Joe Jackson was born on the sunny beaches of La Ronge, Saskatchewan. He took up the fiddle at the age of 12 after nagging his parents relentlessly to get him one. Originally, he'd just wanted to play the riff from The Who's "Baba O'Reilly", but quickly fell in love with Cape Breton, French Canadian and Métis style Fiddle music. He currently lives in Saskatoon and operates a live music venue to keep him out of trouble.
Erroll Kinistino
Erroll Kinistino had a number one hit on NCI radio with Kokum's Kaddilac. His next single will be Shas Ki Nuck, a song about his Métis roots, "She came a long way from the Red River cart". He recently played two Métis characters in the 55th-anniversary reenactment of The Trial of Louis Riel; Phillipe.
Lancelot Knight

Lancelot Knight is a Plains Cree, actor singer-songwriter from Saskatoon, Saskatchewan. He has toured in Germany, travelled to New Zealand and across North America. Spanning genres and all forms of artistry, He also plays guitar for his father's band Chester Knight and the wind, and toured with Joey Stylez. Lancelot Knight is a co-creator of the play 'Reasonable Doubt'.
Lawrence (Alex) Highway Express

Lawrence (Alex) Strongarm is from the Kawactoose First Nation, currently resides on the Whitecalf Cree Nation in the Treaty Four Territory. Lawrence has played for over 30 years and is the Leader of the Highway Express Ole Tyme Fiddle band. Throughout the years Lawrence and Highway Express have travelled throughout Canada, well into the United States Entertaining / Wowing the Crowds with his unique ways. He's won Numerous Fiddle awards as well as played for many square-dance groups, and jigging competitions.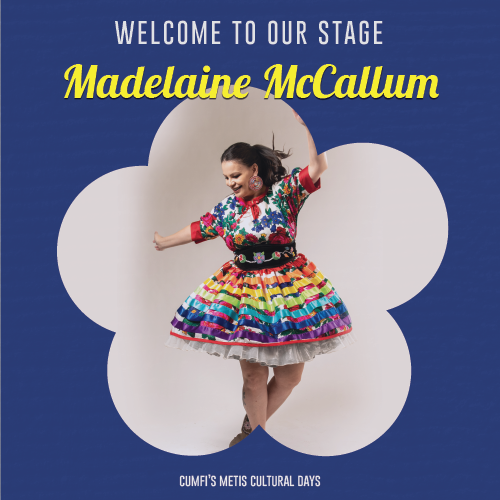 Madelaine McCallum
Madelaine McCallum is a dancer originally from Ile a la Crosse, Saskatchewan. Though she is well known for Métis dance (she's been jigging since she could walk!), she enjoys all forms including Pow Wow, Contemporary, Hip Hop, and just movement from the soul. Madelaine has performed for many stages. Performing was a natural progression into choreographing. Madelaine has a passion for sharing her knowledge of dance and culture. Madelaine also shares her story of survival and how dance has been her outlet and savior throughout her life. Her belief in sharing knowledge with her community to empower and strengthen them and her deep love of dance and firm belief in its healing powers, for the audience as well as the dancer, is what makes Madelaine McCallum such a name to look out for!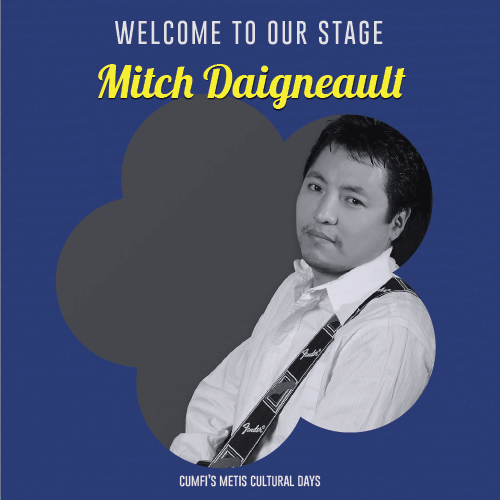 Mitch Daigneault
Award-winning, Mitch Daigneault! At an early age, Mitch began playing guitar and quickly found a love for music. During that time, Mitch began songwriting and focused more on performing. Mitch entered numerous talent shows with great results, which began a new chapter and a career hunt. Mitch got involved in many showcases such as the Voices of the North and the Country North Show that are based out of Prince Albert, Saskatchewan. Being a part of the show brought great exposure and experience performing on a live stage. During this time, Mitch took the next logical step and enrolled in the Recording Workshop in Chillicothe, Ohio, where he received a certificate in recording engineering.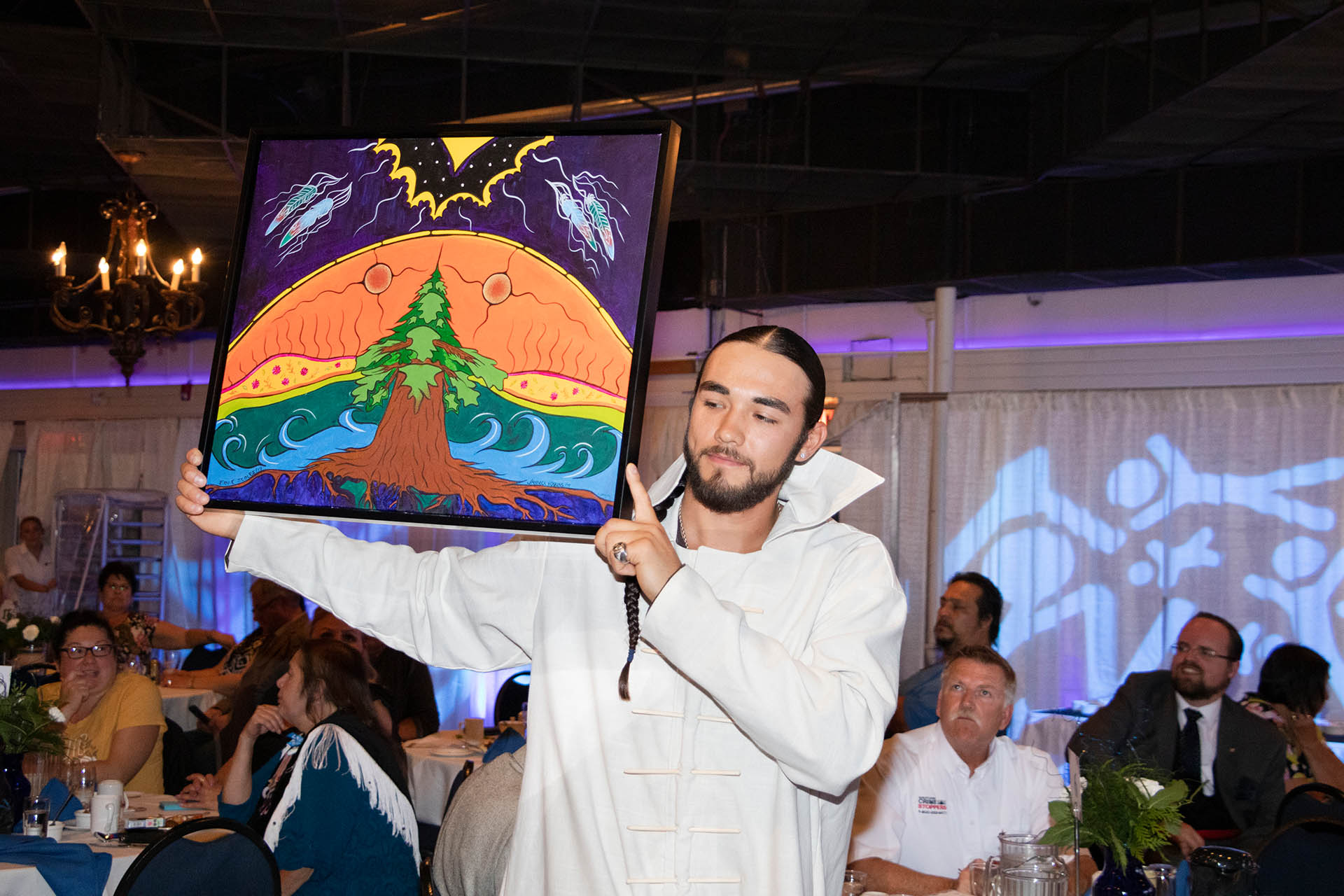 VIRTUAL ART AUCTION
Bidding starts September 1, 2021

The virtual online auction will broadcast on September 11 (evening). But be sure to come on down to the Western Development Museum to see all the artwork in person and bid on-site!

Stay tuned for the list of artists and images of their artwork to be auctioned!

In the spirit of reconciliation.

The Métis Cultural Days will play host to community participation, awareness and engagement in Métis Arts, Culture and History.